Covid Safety Stencils helping you to get back to "Normal"
Line Brite has a range of Sports Pitch Line Marking products.
We are proud to support the Boys & Girls in Green
by supplying LineBrite to Irish International Venues for Soccer, Rugby, Cricket & Athletics.
Don't Burn The Kids!
Hydrated Lime is not the solution to your problems!
We all know that hydrated lime is extremely dangerous.
LineBrite can be used with peace of mind.

Line Brite is a safe, cost effective and durable solution to your line marking needs.Often we see groundsmen re-marking a pitch on the morning of the match, even though they only marked it with lime the day before (but it got washed away)?Lime is not the solution to your problems! We all know that hydrated lime, as well as washing away easily, is extremely dangerous.
Aerosols
are very costly
as many clubs are using between 4 & 6 cans per pitch and averaging around €7 per can.
Battery powered line marker are even more expensive and requires a great deal of maintenance to keep it running. A common issue is that the battery will die either before or during the marking leaving you no way to finish of the pitch or the spray nozzles become clogged regularly.
Buying a new type of marking system isn't necessary.




Keep using your transfer wheel / line roller

but ditch the dangerous lime.Line Brite is a ready to use line marking paint

that can simply be poured into your conventional marker.

With numerous Rugby, Soccer, Athletics and Gaa clubs using LineBrite all over the country we are delighted with the response to LineBrite's crisp clean results. The clubs are reporting that one marking can comfortably last 2 weeks. The groundskeepers are now happy with not having to re-measure or string out the entire pitch again on a regular basis.An average sized pitch with 3" lines can get upto 7 complete markings per 20L bucket.
LineBrite manufacture and sell pitch line marking paint in Ireland and supply solutions to sporting organization that need to mark out sports surfaces.
our products are suitable for most traditional and modern grass line markers, including transfer wheel rollers and battery powered sprayers. we also have a range of accessories to help you to set out and mark your sports pitch with the best lining paint to mark out pitches with natural grass surface.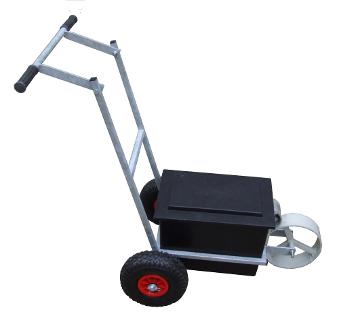 We have listened to you
and designed our machine around your needs!
By using a composite fluid tank in a galvanized frame as well as eradicating rust we can make our machine so much lighter and easier to push.
With a wider wheel base and pneumatic tyres make the machine ride over rough ground whilst keeping a straighter line.
The smooth transfer wheel uses less paint than most conventional machines.
The removable fluid tank makes it:
Easy to return unused paint to the pail.
Washable and easy to clean.
Easy to clear grass cuttings.
Because we are all different, Adjustable Handles can make it fit perfectly to your height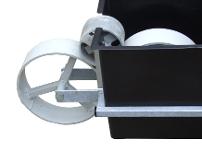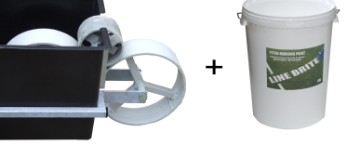 We can only help if you tell us what you want!
please feel free to contact us on Info@linebrite.com ALL feedback is appreciated.